Attendance recording in construction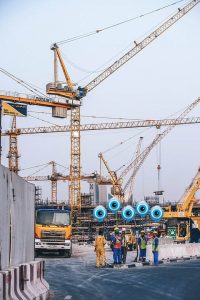 Automate your attendance recording on construction sites and save time & money! 
Thanks to our innovative solutions, you no longer have to worry about whether you are in compliance with the attendance recording obligation in the construction sector. It is possible to 'check in' almost automatically on Checkinatwork system as soon as you arrive at the worksite.
- Do you have a large worksite? If so, make use of a worksite time clock and allow your employees to check in using their badges or by scanning their QR code to record their attendance
- Are you already using a planning software? In that case, upload your file in our system and automatically forward the attendance records
- Have your employees also received a ConstruBadge? If so, you can also do attendance recording via this ConstruBadge, thanks to our solutions
- Are there subcontractors working for you? They too can check in on the Checkinatwork system quickly and easily!
Traxgo is the right choice:
Years of experience
Free training (including for Checkinatwork)
Free service and support
Extensive updates and personalisation
Own software
Do you want more information about attendance recording in the construction sector? Please contact us via the form on our website.
Also find out everything about: